Conquering Fears at Quassy (or: Learning Not to Drown)
This race report is
sooooo
late...but that's what happens when you own a house, have to deal with a stolen commuter bike, and are in the throes of the last weeks of summer grad classes...not too much time for blogging!
Quassy
is one of my favorite races: great crowd, hills to break up the monotony of pedaling, the chance to catch Carfrae or Wurtele
just
as I'm leaving T2, and the wonderful Connecticut families who come out with water guns!
I didn't walk away from Quassy with a PR or any podium finishes - no, no, far from that. But I did conquer my panic attack, which is
HUGE
for me. I've had a string of panic attacks in the past two years of races and OWSs. I feel like everything is cutting off my breathing: my wetsuit, the tri top, the water, the waves, the flapping hands...
It's no biggie; I just float on my back, swallow gallons of lake/ocean water, try to recalibrate my breathing, and curse to myself incessantly. Well, actually...it
is
a biggie. It's destroyed my self-confidence on the swim, my strength of the three sports; it's become this humongous, looming
FEAR
that I can't quite shake.
Until Quassy!
Bart could sense that I was all nerves at the beach start.
"What if I get another panic attack? What if I have to stop? What if the other girls get away?"
Bart just tried to make me laugh, but his advice actually worked!
"Just think '
easy, peasy, Japanese-y
,' and you'll be fine. Just get in the water, warm-up and get used to the water temps, and then remember '
easy, peasy, Japanese-y
.'"
After Bart's wave took off, I splashed around in the warm-up section with
Caroline
, superwoman and bad-ass training mate. Quassy - and Rev3 in general - is great in that they have a reserved warm-up section open throughout the wave starts.
As soon as the gun went off, I tiptoed into the water. That's right; no rush. I let the fast fishes splash their way into the water and just calmly started with the back of the pack. As soon as I put my head into the water, I followed Bart's sage advice: "
Easy, peasy, Japanese-y" -
for each stroke, I just repeated that mantra.
It worked!
Granted, I started out with a much slower stroke rate than normal, but the fact that I survived the entire swim without a panic attack - the first time in six races - was huge!
Thanks to Rev3 Tri for the photo!
Yes, I'm too cheap to pay for race photos!
Came out of the swim ecstatic that I hadn't had to flip over on my back once!
1.2-Mile Swim: 30:45 (4th AG)
The bike - what to say about dropping 13 places in my AG and getting passed by a slew of ladies and 20-something-young bucks from the heats behind me? It's no fun, let me tell you, and would probably be pretty depressing to read. Let's just say biking w/ power still remains at the top of my priority list - and probably always will.
Only highlight to the bike was nailing the nutrition. Thanks to teammate
Matias Palavecino
for his sage advice in calories and timing! Took in 60 calories every 15 minutes for the first hour and 60 calories every 20 minutes for the next 2 hours. Had 4 salt tablets over the last 2 hours of the ride - the day was really starting to heat up!
Thanks to
Snapple's nutrition sponsor Clif
for delicious Clif bars and Shot Blox to keep me rockin'!
See the beautiful course in the background!?!?!? I LOVE QUASSY!
and note the traffic cone to keep me from trespassing...

56-Mile Bike: 3:16:50 (dropped to 17th AG!)


I kept trying to adjust that damn race belt throughout
the run...eventually it became a permanent peekhole for my bellybutton.
Onto the run...
HALLELUJAH
!
Every step of the run felt stronger. Oh my god, if I could re-create that bliss I felt over that entire 13.1 miles...I'd never stop running. I don't know what made my endorphins kick in at the hottest time of the day, but I'm sure the bathroom stop at Mile 1's aid station was a smart choice.
Took in 3 gels throughout the run and 2 salt tablets. Some may think this is light, but it worked really well for me!
13.1-Mile Run: 1:42:30 (7:50 pace)
and with a negative split!
I can overcome my panic attacks. Although this may mean starting on the outskirts and in the back when the gun goes off, I just need to keep steady and have a mantra. There's plenty of time in those 1.2 miles to catch up to the lead pack!
POWER on the BIKE. Where do all the other ladies get that speed? I swear I know how to ride a bike, just not fast (especially uphill!).
Matias is a nutrition guru!
Ronins rock!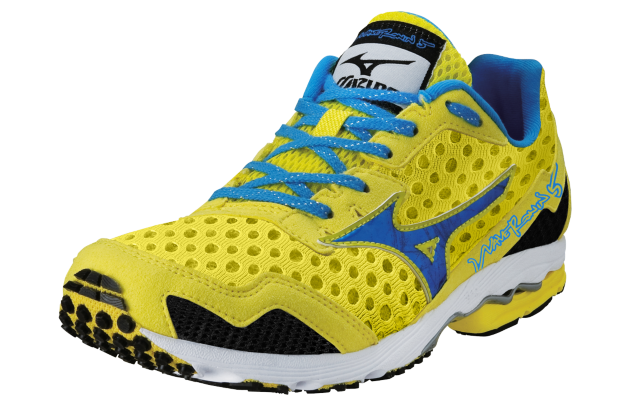 I love these shoes. Teammate
Katie
and I had a discussion just today about whether we'd each wear our Ronins for our IM races - Katie at IMLP, me at IMMT. They're only 5.8 oz and although they lack the cushion and support of my Wave Riders, these Ronins have done nothing but treated my feet wonderfully at each race!

And a shout-out to fellow teammates who dominated Quassy as well!
Barry Lewis
won his AG by over 30 minutes and finished 13th OA Amateur. MACHINE!
And good luck to
Chris Nocera
as he recovers from an Achilles injury!
And a very exuberant high-five to Caroline Lauver - thanks for great training weekends and so honored to race alongside you at Quassy!